First off, if you havn't read my previous article," Using your Head" then you might want to do so. This sort of dovetails in the same aspect of simply using brain over technology.
So, let's say you are in some sort of scenario where you are lost and you don't have your compound/cross bow with you. Well, good luck getting any big game without it. And I doubt you could make a spear and jump a hog like Rambo did in First Blood. So you need a bow and some arrows. What do you do? First, STOP and THINK. Look around you and see what kind of woods are available. Just about anything will do.
Now this next step will determine how easily you will obtain a suitable bow. Do you have a knife? If so then your day is made. If not then don't panic. Making a bow will just take a little longer. I will go through the steps as if you have a knife. If you happen to not have on, well...bend a tree and tie your shoe lace to it and there you have it.
Now, back to where you were looking around. Ok, first, throw away any misconceptions you may have of ONLY certain woods being suitable for bows. NADA. You can make a bow out of almost any sapling out there. The performance will vary of course. But heck you just want something to kill. So cut you a sapling about as the size of half your wrist. So 2-3 inches across. "Gut" the tree by cleaning the twigs and crap off. Trim the bow about as long as the string you have available. You may have to tie 2 shoe laces together to get some length.
Locate the center where your handle grip will be. Then look at your stick. If it bends in any one direction then you muct follow it. Try to save yourself some time by cutting a straight tree. Next, start chopping on one side of the sapling as shown below.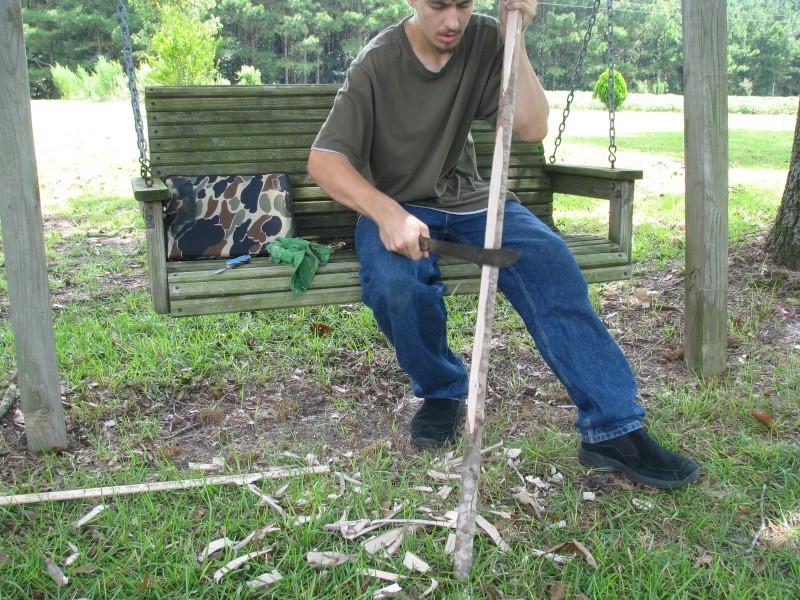 Keep doing this on both sides of the bow until it is about as thick as your index finger. And above all else, DON'T CUT ON THE OPPOSITE SIDE OF THE BOW!. The only side yo cut on is the side facing you when you shoot it. This is called the belly. If you cut on the "back" of the bow(the side facing AWAY from you when shooting) it will splinter and break.
As you get the sapling thinned out to where you can bend it, test it but be careful not to break it. Keep shaving/chopping until you get it thin enough to shoot. Try to keep the thickness even along the entire length of the stcik.
Then use your shoe lace and string her up. For arrows, look in the bushy/shrubby undergrowth for the saplings that grow up and you will see that they grow very staight as they go for the sunlight. Cut a few and trim them to length and there you have it.
I would highly recommend that you do additional research into this as there is far too much info for me to put here. Then go out and practice one day. Once you make your first bow, you may never quit. It's a fun hobbie and very useful.